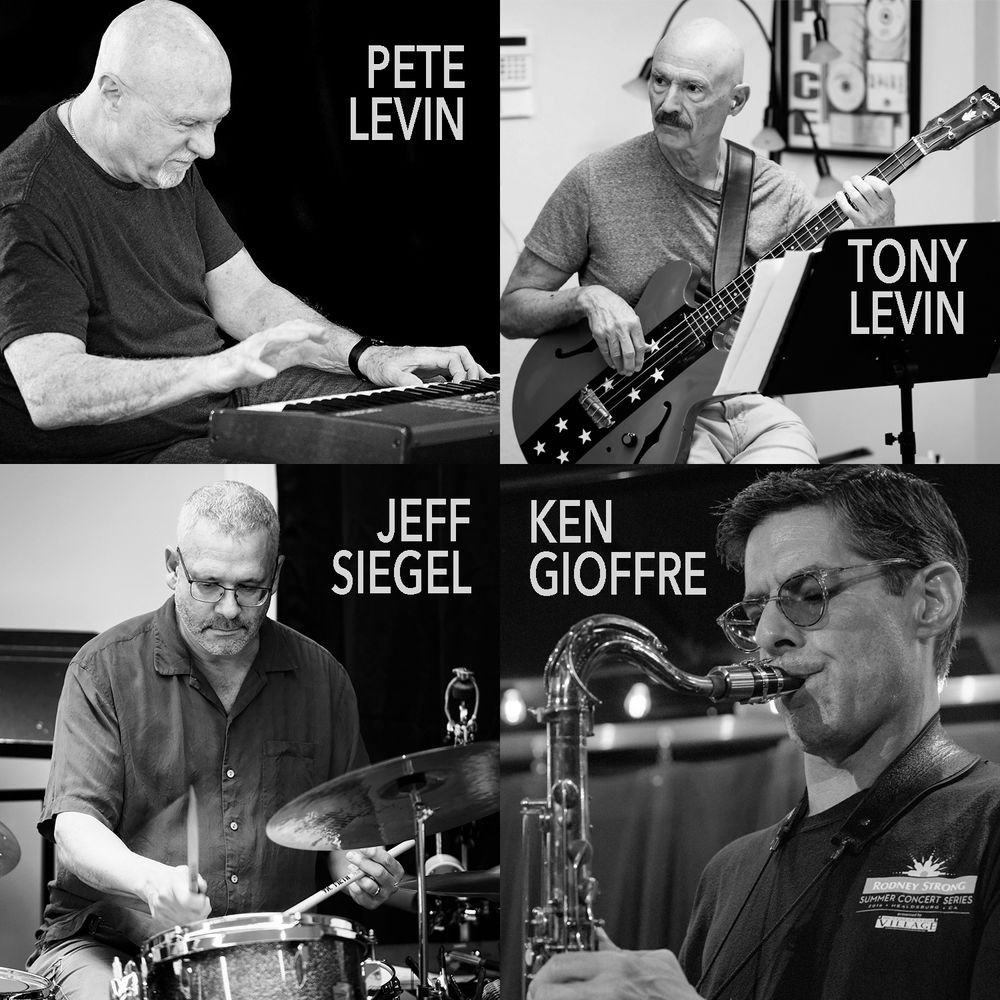 The Levin Brothers with special guest Epic Tantrum
Thursday, December 21st at Middle Ages Beer Hall
Doors at 6:30
LEVIN BROTHERS was founded by Pete and Tony Levin in 2013, After 5 decades of glorious career playing with virtually who is who in all genres of music - jazz, fusion, rock, pop and world music, and after guesting on each other's projects, two brothers finally decided to have their own jazz band. Levin Brothers released 2 albums: the self-titled first album in 2014, and the follow up live album 'Special Delivery' in 2017. The band has toured all over the USA, and has performed also internationally in Mexico, El Salvador, Bolivia, Chile, Argentina, Uruguay and Japan.
Since graduating from the Eastman School of Music, Tony Levin, one of the most recorded bass players in history of music, has become bass and Chapman Stick voice for Peter Gabriel and King Crimson. he has played on notable recordings for John Lennon, Pink Floyd, Lou Reed, Alice Cooper, Carly Simon, Paul Simon, Seal, and many others, as well jazz artists Buddy Rich, Gary Burton, Steve Gadd and Chuck Mangione. He currently records and tours with Stick Men, Levin Brothers, Band Of Brothers and Peter Gabriel.
After graduating from the Juilliard School, Pete Levin became a synthesizer specialist in the New York City recording studio scene. Over the years, he has graced hundreds of jazz and pop recordings and performances with many artists, including Gil Evans, Jimmy Giuffre, David Sanborn, Annie Lennox, Charles Mingus, Jaco Pastorius, Lenny White and Paul Simon. He has released nine solo albums.
A veteran of the New York Jazz scene, Jeff 'Siege' Siegel has worked with a virtual who's-who of jazz artists. A member of Sir Roland Hanna's Trio from 1994-1999, Jeff has performed and recorded with Jazz legends including Ron Carter, Kenny Burrell, Lee Shaw, Jack DeJohnette, Benny Golson, Frank Foster, Helen Merrill and Mose Allison.
Ken Gioffre Is one of the busiest sax players in business, performing with at The Tonight Show with Jay Leno and NBC's Today Show, and touring and recording with pop, soul, jazz, blues and rock stars such as Nancy Wilson, B. B. King, Dianne Reeves, Tito Puente, Mose Allison, The Temptations, Dr. John, Michael Bolton, Queen Latifa, Buddy Guy, Kid Creole, Toots Thielmans, Eddie Money, KC and the Sunshine Band, John Pattitucci, Will Lee, Randy Brecker and many others.
Soft Machine with special guest Epic Tantrum in Syracuse!
Wednesday, October 11, 2023 at Average Joes
Soft Machine & special guest Epic Tantrum
Doors at 6:30 PM
Wednesday, October 11, 2023
Average Joe's
2119 Downer Street
Baldwinsville, NY 13027
Tickets $35 advance / $45 day of show. Tickets are on sale now!
Tickets are available at: visionmerch.com/tix/
Soft Machine Official lineup is:
JOHN ETHERIDGE guitar
THEO TRAVIS flute, sax, electric piano
FRED BAKER bass guitar
ASAF SIRKIS drums
Since their arrival on the music scene in the first wave of 1960s psychedelia, the name Soft Machine has become synonymous with musical experimentation, instrumental virtuosity, and inspired creativity all animated by a truly adventurous, progressive spirit. Although the personnel may have changed over the years, the commitment of those playing in Soft Machine today has remained consistent.
Some of the very brightest stars in the British jazz firmament have served in the ranks of this revered musical institution. Robert Wyatt, Mike Ratledge, Elton Dean, Hugh Hopper, Karl Jenkins, John Marshall, Roy Babbington, Allan Holdsworth, John Etheridge, Theo Travis, Kevin Ayers, Daevid Allen, Andy Summers, Jack Bruce, Gary Husband, and many others, have all focussed their own unique musicality to help shape the band's sound and personality.
Just like those earlier configurations, since they began recording and working live in 2004 as Soft Machine Legacy and the arrival of Theo Travis in 2006, the current lineup continues to defy easy categorization For Theo Travis, there's a rich combination of elements that combine to form what he believes to be Soft Machine's appeal. "I like the freedom, I like the variety of colors, the band improvisation. The fact that it has such a strong catalogue of music going back over 50 years from which we dip into and play. With a lot of jazz stuff, you do it and people come up and say 'good gig' or whatever, but it's not like it means something in the same way as a band that has history and a cultural significance in the way that Soft Machine has. For me, it's a suitable combination of rock, jazz, improv, melody, risk-taking, textures, and experimental looping. It's pretty much all the things I like to play in."
Their latest album, Other Doors, sees them move seamlessly between hardcore improvisation, pop-tinged ebullience, muscular rock, and visceral jazz along with shimmering electronica and ambient overtones. The album also signifies another change within the Softs' roster, marking the first recording to feature new bassist Fred Baker, who had guested with the band on occasion dating back to 2008 but actually took over permanent live duties from Roy Babbington in 2021. Baker, a superb musician with connections to the whole of the extended Canterbury family tree that includes a long-established duo with Phil Miller and the band In Cahoots, has enjoyed touring with Soft Machine. "We recently played a large theatre in Istanbul and it was sold out. There were lots of young people and they were coming up after the gig wanting things signed which was fantastic." Alongside the new compositions which Baker enjoys, is Soft Machine's impressive back catalogue which is featured through their live shows. Giving people an opportunity to hear these compositions in a live setting is important, he believes. "My big thing with all this music is I see it like in a way that people used to look at, say classical music or early music. . . it's keeping the music alive and in the present, enabling people to revisit music that they might only have heard on record. I'm so glad to be part of it."
The release of Other Doors in 2023 is also the end of an era as the last studio session with the legendary John Marshall, who first joined the group in 1972 and at the age of 81 has decided to retire. Marshall's place has been taken by another good friend of the band, drummer and composer Asaf Sirkis. Lauded by Robert Wyatt who says of Sirkis, "there's nothing he can't do when he puts his mind to it," Asaf had previously played with Soft Machine when Marshall was unable to tour due to ill health. However, a fan of the group since he first heard Softs' 1975 album, Bundles, featuring Allan Holdsworth, the music of the group has been incredibly influential on his whole outlook and career. "It's very exciting for me especially because of my history. Obviously, I'm a relative latecomer compared to the others in Soft Machine but it's the music I grew up listening to and not just Soft Machine, but the music of all the various people that have played in the band over the years. So, it's really exciting, like the closing of a big, big circle for me."
Marshall's departure from recording and performing now leaves John Etheridge, who joined the group in 1975, as the last surviving member of the group with roots in Soft Machine's 1970s heyday. A highly respected player, Etheridge has performed in a variety of settings across his long and distinguished career but, he says Soft Machine feels like his spiritual home. "I definitely feel when I pick up the guitar and play under the banner of Soft Machine, I feel different to any of my other gigs. It's my favorite of all things I do by far. When I play with the Soft Machine, that is when I really feel like I'm contacting the player I want to be."
Whilst the primary focus is on new work and improvisation their ability to call up almost any part of the back catalogue is something all members relish. The latest album, Other Doors, includes Joy Of A Toy, which was first heard on 1968's debut, The Soft Machine. This much-loved number, written by Kevin Ayers, has been included in the band's recent live set for a while now. Putting it on the album seemed very natural, says Etheridge. "Of course, it's long before my time and it wasn't something I knew but it's a great piece. Fred Baker transcribed the original with Kevin Ayers' charming bass playing. it's got a sort of nice bounce about it. . . As a group, we are always, looking for variety, not for its own sake but to cover a broader territory. So, to be playing the second-ever Soft Machine single alongside brand-new compositions is something that's a really good approach. There's a degree of eccentricity about that's very important to Soft Machine."
This is Soft Machine - a living, breathing music that is as vital and relevant today as it ever was. Both long-time fans and new converts alike can take heart in the knowledge that the Soft Machine family tree -- with its deep roots in the musical revolution of the '60s - continues to sprout healthy new limbs well into the new century, showing no signs of slowing. The legacy is in very good hands indeed. In 2018 Soft Machine released the album 'Hidden Details' which reached the Number 1 slot in the Amazon.co.uk Jazz Fusion chart. It also reached Number 1 for 8 weeks in the prestigious progressive radio chart from Philadelphia USA 'Gagliarchives' with Tom Gagliardi. Following the 50 date, 50th Anniversary World Tour, Soft Machine released a live album at the prestigious Los Angeles club the Baked Potato. - 'Live at the Baked Potato' was released in 2020 to great acclaim.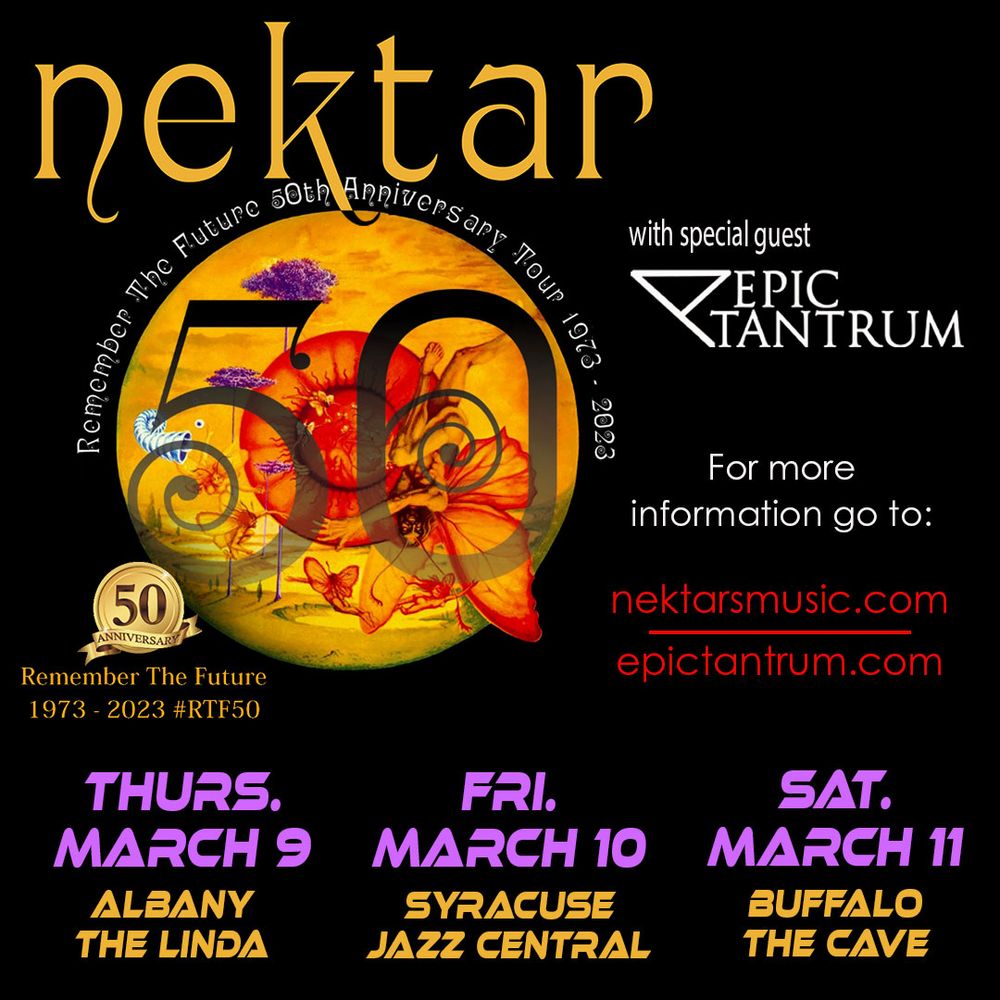 On tour with Nektar!
Albany, SYracuse and Buffalo here we come!
In 2023, Nektar celebrates the 50th anniversary of the release of their landmark album, "Remember the Future," performing the album in its entirety.

"It's wonderful to be out on the road playing for our old and new fans," says founding member Derek 'Mo' Moore, "sharing classic material from 'Remember the Future' and other early recordings, and introducing them to the sounds of our most recent album 'The Other Side.'"

For more than 50 years, Nektar has taken legions of fans on audio-visual journeys to far reaches of the universe and the depths of the ocean with their immersive blend of sight and sound.

Nektar has captured the imagination and admiration of listeners the world over with their multi-media concerts, melding a jam-band vibe with superb musicality and a visual cornucopia that perfectly complements each performance.
Special Guest Epic Tantrum will be opening in Albany, Buffalo, and Syracuse. 
March 9 at the Linda in Albany, NY - click here for tickets
March 10 at CNY Jaz Central in Syracuse - click here for tickets
March 11 at The Cave in Buffalo, NY - click here for tickets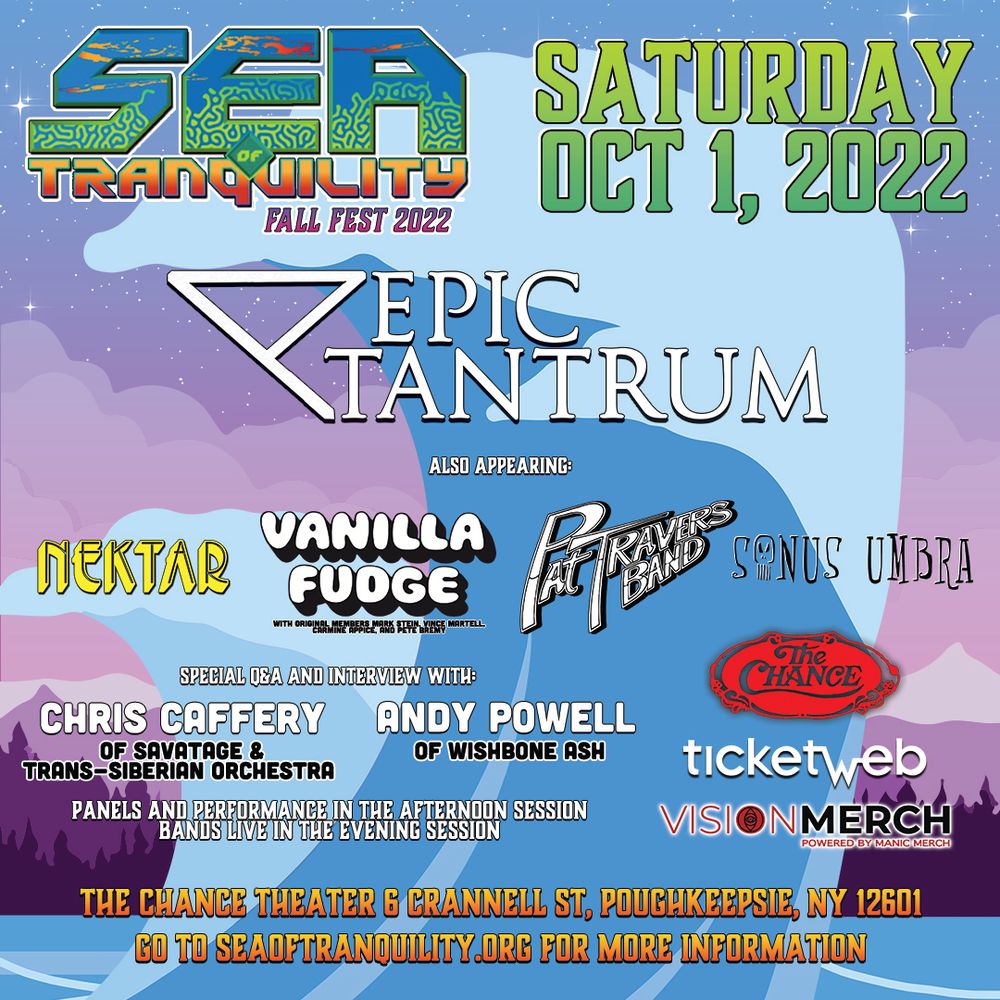 Sea of Tranquility Fall Fest 2022
With Nektar, Vanilla Fudge, Pat Travers Band and Sonus Umbra!
Sea of Tranquility Fest 2022
Sea of Tranquility Fest 2022 will bring together many of the elements that make their YouTube channel and webzine a daily destination for so many people-progressive rock, classic rock, hard rock, heavy metal, and insightful conversation. Join us for a jam packed day of music & talk!
PLEASE NOTE: There is a morning and afternoon session. Your ticket purchase guarantees entrance to both.
Evening Session:
Doors at 6:00 pm
Live Performances From: Nektar, Vanilla Fudge, Pat Travers Band, Epic Tantrum, Sonus Umbra
Q&A with Andy Powell of Wishbone Ash
Afternoon Session
Doors at 12:00 pm
First Panel - In the Prog Seat
Second Panel - Hudson Valley Squares
Third Panel: Martin Popoff & Pete Pardo
Fourth Panel: Q&A with special guest Chris Caffery of Savatage and Trans-Siberian Orchestra
Go to seaoftranquility.org for complete line-up, updates and information of where to purchase tickets.
Ticket Prices:
Limited VIP Seated: $75 (if purchased before September 1st)
General Admission: $60 (if purchased before September 1st)
Tickets Guarantee access to both sessions
Wishbone Ash
July 23, 2022 at Average Joes
In preparation for the 50th Anniversary and a new live recording of their biggest selling album, Wishbone Ash are offering fans an up close and personal experience to go deep in the shed to work through this vintage material in its entirety. Released in 1973, "Live Dates" offers the greatest and most challenging collection of early material which propelled this double album to multi platinum sales.
These five shows will be the incubator for a new recording of "Live Dates" which will be recorded at Daryl Hall's renowned New York venue, Daryl's House Club, at the end of the run.
Formed in 1969 in England, WISHBONE ASH are one of the most influential guitar bands in rock history. Equally inspired by British folk, American jazz and R&B, the band garnered public approval and critical praise. Energy and melody have made The ASH a hard-to beat act that is currently being discovered by new generations of loyal rock fans.
The first live album released by the band, "Live Dates" features selections from Wishbone Ash's first four albums performed in concert during the summer of 1973. Reviewers have consistently listed it among the best live rock albums of all time.
Founding member Andy Powell (guitarist, lead vocals) trades licks with Yorkshire's Mark Abrahams, who has been playing Wishbone Ash tunes since his youth. Bob Skeat keeps the low-end rocking, working the grooves with newest band member Mike Truscott on drums. Mike also hails from Yorkshire, England, like Mark Abrahams.
Over the years the band has experimented with diverse musical genres, from folk, blues and jazz to pedal-to-the-metal rock and electronica. Regardless of the style, WISHBONE ASH's unmistakable unique selling point is their interplay of two lead guitars, which influenced bands such as Thin Lizzy, Lynyrd Skynyrd, Iron Maiden and Opeth, among others.
As true warriors of the road, the band regularly covers around 30,000 miles a year, which is roughly equivalent to circumnavigating the world.
Wishbone Ash's latest studio album, "Coat of Arms," was released in early 2020. Other recent releases include Snapper Music's limited-edition "Argus" box set containing the remastered album plus historical live albums, previously unreleased, from the original band, back at that time.
More about Epic Tantrum:
Syracuse based Epic Tantrum released their critically acclaimed debut album, "Abandoned in the Strangers Room" in January of 2020. The release has been praised around the world for their first rate songwriting and stellar musicianship.
"A perfect blend of prog and metal" - Mike Portnoy, (Dream Theater…)
"this band is a force to be reckoned with" - Pete Pardo, SeaOfTranquility.org
Doors at 6:30 PM
July 23, 2022
Average Joe's
2119 Downer Street
Baldwinsville, NY 13027
Tickets available at: visionmerch.com/wishbone-ash-live/
$40 General Admission
$90 VIP (limited number of VIP tickets available)
VIP gets you:
- Early Admission (1 hour before doors)
- Private Performance/Q&A
- VIP Laminate
- Crowd Free Merch Shopping
- Guaranteed high top table with waitress service
Stick Men with special Guest Epic Tantrum
Saturday, April 2 - Liverpool, NY
STICK MEN
Featuring TONY LEVIN, PAT MASTELOTTO, MARKUS REUTER

with special guest Epic Tantrum

Saturday, April 2 at Sharkey's in Liverpool, NY - 7240 Oswego Rd, Liverpool, NY 13090
Doors at 6:30 pm
Tix available at: https://syracusetix.com/event/stick-men-with-special-guest-epic-tantrum/


Sick Men are:
TONY LEVIN – Chapman stick
MARKUS REUTER – touch guitar
PAT MASTELOTTO – drums

STICK MEN – Tony Levin and Pat Mastelotto, the powerhouse bass and drums of the group King Crimson for a few decades, bring that tradition to all their playing. Levin plays the Chapman Stick, from which the band takes it¹s name. Having bass and guitar strings, the Chapman Stick functions at times like two instruments. Markus Reuter plays his self-designed touch style guitar ­ again covering much more ground than a guitar or a bass. And Mastelotto¹s drumming encompasses not just the acoustic kit, but a unique electronic setup too, allowing him to add loops, samples, percussion, and more. Members of STICK MEN have recorded on albums that sold over 200 million records worldwide and all 4 individual members have played collectively in many different projects in the past 5 decades in over 90 countries worldwide.

TONY LEVIN – Born in Boston, Tony Levin started out in classical music, playing bass in the Rochester Philharmonic. Then moving into
jazz and rock, he has had a notable career, recording and touring with Peter Gabriel, John Lennon, Pink Floyd, Yes, Alice Cooper, Paul Simon,
Seal and many more. He has also released 5 solo CDs and three books of photohraphy and poetry. In addition to touring with Stick Men, he is currently a member of King Crimson (since 1980) and Peter Gabriel Band (since 1977), and jazz bands Levin Brothers (with his older brother
Pete Levin) and L¹Image (with Steve Gadd, Mike Manieri, David Spinozza, Warren Bernhard). Tony Levin is one of the most recorded
bass players in the history of music, appearing on over 1000 albums, and one of the most iconic and recognizable rock musicians in the past 5 decades. His popular website, tonylevin.com, featured one of the web¹s first blogs, and has over 5 million visits.

PAT MASTELOTTO – Very rarely does a drummer go on to forge the most successful career on the demise of their former hit band. Phil Collins
and Dave Grohl have managed it, so has Pat Mastelotto, a self taught drummer from Northern California, who has also been involved with pushing the envelope of electronic drumming. Pat has spent a lifetime jumping genres from pop, to prog, to electronica to world music with ­ among others ­ Mr. Mister, XTC, David Sylvian, The Rembrandts, Kimmo Pohjonen, and for the last 25 years with King Crimson.

MARKUS REUTER – Markus is a composer, guitarist, and producer. Initially trained as a pianist, he subsequently studied Robert Fripp¹s
Guitar Craft and learned to play the Chapman Stick, later moving onto the U8 Touch Guitar. Reuter has re- leased several solo recordings and worked extensively with other musicians. He is one of the core members of the experi- mental band Centrozoon, is half of the duo Tuner (with Pat Mastelotto) and was also a member of Europa String Choir. Reuter has collaborated with Ian Boddy, Robert Rich, No-Man singer Tim Bowness, and many others, and he has joined the new Devin Townsend ¹s band. His new power trio TRUCE is recording the second album and will be touring worldwide.

More about Epic Tantrum:
Syracuse based Epic Tantrum released their critically acclaimed debut album, "Abandoned in the Strangers Room" in January of 2020. The
release has been praised around the world for their first rate songwriting and stellar musicianship.
"A perfect blend of prog and metal" -  Mike Portnoy, (Dream Theater…)
"this band is a force to be reckoned with" - Pete Pardo, SeaOfTranquility.org
Epic Fest!
September 10th and 11th, 2021
Fast-rising prog rockers Epic Tantrum is pleased to announce the first annual Epic Fest, a two day celebration of music and art – taking place on September 10 and 11, 2021 at Sharkey's Event Center in Syracuse, New York. Visit epic-fest.com for more details, and visit showclix.com/event/epic-fest-syracuse to purchase tickets.

"It has always been our goal to play shows that are more than concerts, we want to create events, we want to see music and art showcased, and that is why Epic Fest was created," said bassist Greg Ross.

Epic Fest will feature national touring bands YYNOT, Ethan Brosh, PAKT, and Epic Tantrum as well as iconic photography from Mark Weiss and cover art of the legendary Ioannis from DangerousAge (both will be displaying their art both nights). PAKT features Alex Skolnick of Testament and bassist Percy Jones best known for his work in jazz fusion group Brand X. YYNOT started as a RUSH tribute band featuring the incredible bass playing of Tim Starace. They have since added their own material and built up a large devoted following. Also appearing will be acclaimed guitar shredder Ethan Brosh, who Guitar World described as "The young guitarist combines a deep musical knowledge, the ability to seduce listeners with catchy melodies and a style that makes this up-and-coming talent shine."

Ioannis has designed over 175 record covers, and singles, for such groups as Deep Purple, Allman Brothers, Blue Oyster Cult, Dream Theater, King Crimson, Bob Weir, Extreme, UFO, Saga, and many others.

Mark Weiss is an American rock music photographer. His most widely recognized photographs capture the look and aesthetic of music and celebrity personalities of the 1980s. His work with publications such as Circus magazine and FACES helped establish Mark "Weissguy" Weiss as a name known for rock photography. Weiss has travelled the world photographing legends from Van Halen, Ozzy Osbourne, Aerosmith, and Mötley Crüe to Metallica, Guns N' Roses, Bon Jovi, and KISS. Weiss's iconic images capture the artists onstage, backstage, and behind the scenes.
https://www.showclix.com/event/epic-fest-syracuse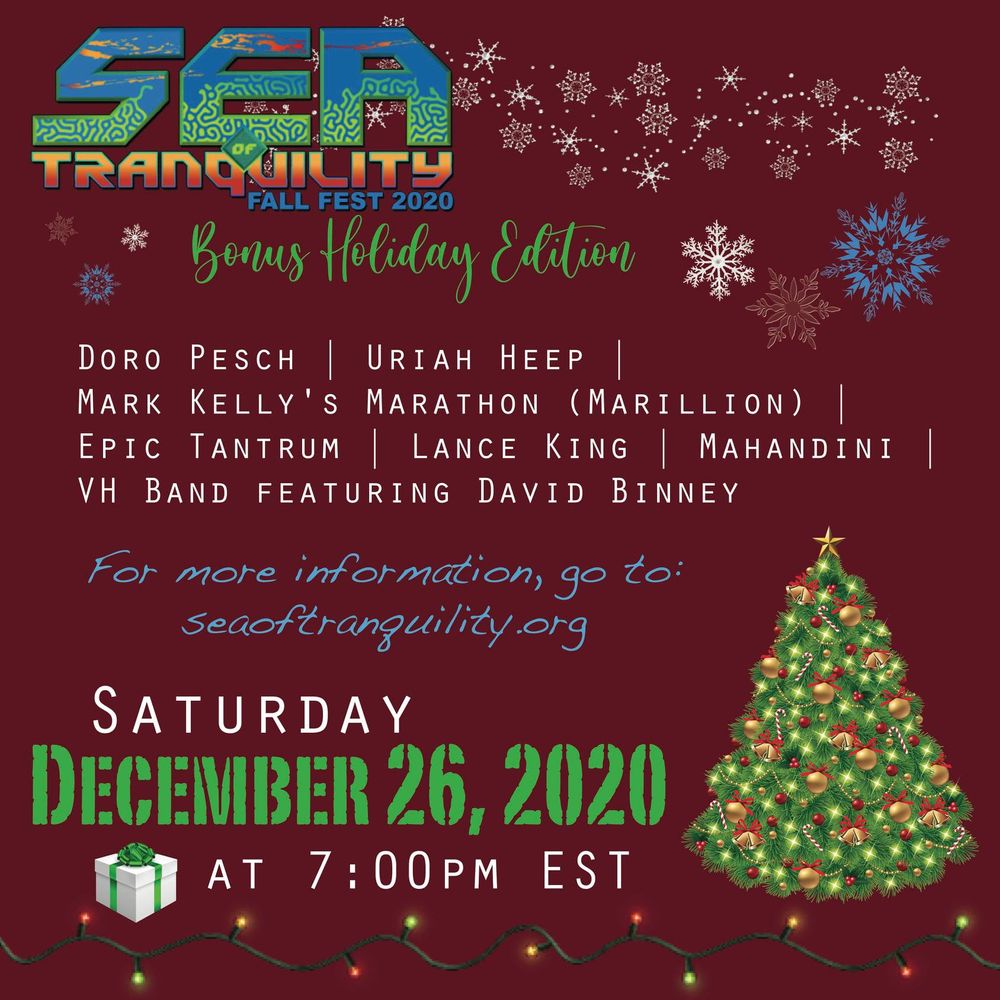 Sea Of Tranquility Bonus Holiday Fest!
We will be performing "Letting Go"
Saturday, December 26th at 7:00 pm est.
Sea Of Tranquility Fall Fest 2020 Holiday Bonus edition will premiere on Sea Of Tranquility's YouTube and Facebook pages.

Organized by Sea Of Tranquility, Vision Merch/Manic Merch and Chipster PR.

Sea of Tranquility:
Website: www.seaoftranquility.org
YouTube: www.youtube.com/channel/UCZF6XvqkFb9lURwIPePFU5w
Facebook: www.facebook.com/SeaofTranquility.org