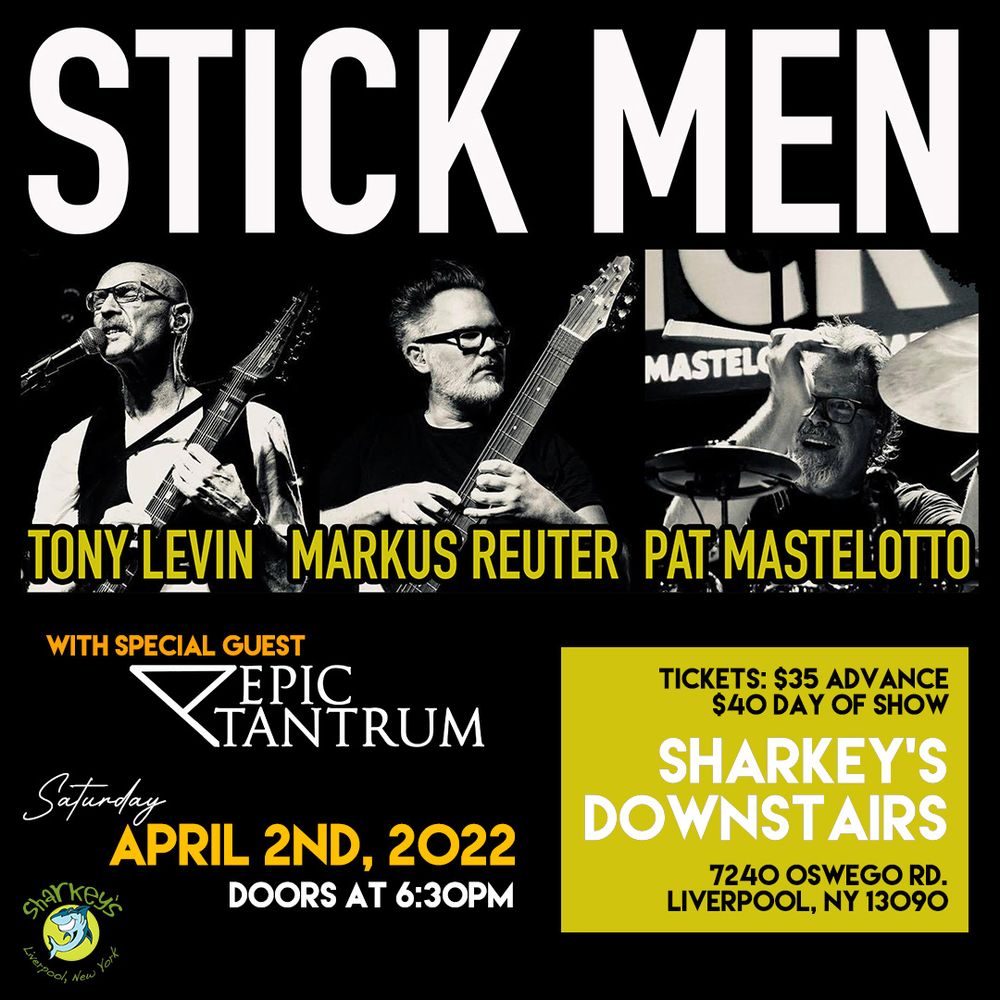 Stick Men with special guest Epic Tantrum
April 2, 2022 at Sharkey's in Liverpool, NY
We are so pleased to announce that we will be opening for Stick Men (Official) on April 2, 2022 at Sharkey's in Liverpool, NY (just outside Syracuse). We are also hoping to have some new music out by then!
Tickets on sale now:
https://syracusetix.com/.../stick-men-with-special-guest.../
Stick Men features Tony Levin (Peter Gabriel, King Crimson) , Pat Mastelotto (King Crimson, XTC) and Markus Reuter (centrozoon, Tim Bowness).
Tony Levin and Pat Mastelotto have been the powerhouse bass and drums of the group King Crimson for the past few decades. Levin plays the Chapman Stick, from which the band takes it¹s name. Having bass and guitar strings, the Chapman Stick functions at times like two instruments. Markus Reuter plays his self-designed touch style guitar, covering much more ground than a guitar or a bass alone. And Mastelotto¹s drumming encompasses not just the acoustic kit, but also a unique electronic setup, allowing him to add loops, samples, percussion, and more.
Members of STICK MEN have recorded on albums that have sold over 200 million records worldwide, and all 4 individual members have played collectively in many different projects over the past 5 decades in over 90 countries worldwide.
Epic Fest!
September 10th and 11th, 2021
Fast-rising prog rockers Epic Tantrum is pleased to announce the first annual Epic Fest, a two day celebration of music and art – taking place on September 10 and 11, 2021 at Sharkey's Event Center in Syracuse, New York. Visit epic-fest.com for more details, and visit showclix.com/event/epic-fest-syracuse to purchase tickets.

"It has always been our goal to play shows that are more than concerts, we want to create events, we want to see music and art showcased, and that is why Epic Fest was created," said bassist Greg Ross.

Epic Fest will feature national touring bands YYNOT, Ethan Brosh, PAKT, and Epic Tantrum as well as iconic photography from Mark Weiss and cover art of the legendary Ioannis from DangerousAge (both will be displaying their art both nights). PAKT features Alex Skolnick of Testament and bassist Percy Jones best known for his work in jazz fusion group Brand X. YYNOT started as a RUSH tribute band featuring the incredible bass playing of Tim Starace. They have since added their own material and built up a large devoted following. Also appearing will be acclaimed guitar shredder Ethan Brosh, who Guitar World described as "The young guitarist combines a deep musical knowledge, the ability to seduce listeners with catchy melodies and a style that makes this up-and-coming talent shine."

Ioannis has designed over 175 record covers, and singles, for such groups as Deep Purple, Allman Brothers, Blue Oyster Cult, Dream Theater, King Crimson, Bob Weir, Extreme, UFO, Saga, and many others.

Mark Weiss is an American rock music photographer. His most widely recognized photographs capture the look and aesthetic of music and celebrity personalities of the 1980s. His work with publications such as Circus magazine and FACES helped establish Mark "Weissguy" Weiss as a name known for rock photography. Weiss has travelled the world photographing legends from Van Halen, Ozzy Osbourne, Aerosmith, and Mötley Crüe to Metallica, Guns N' Roses, Bon Jovi, and KISS. Weiss's iconic images capture the artists onstage, backstage, and behind the scenes.
https://www.showclix.com/event/epic-fest-syracuse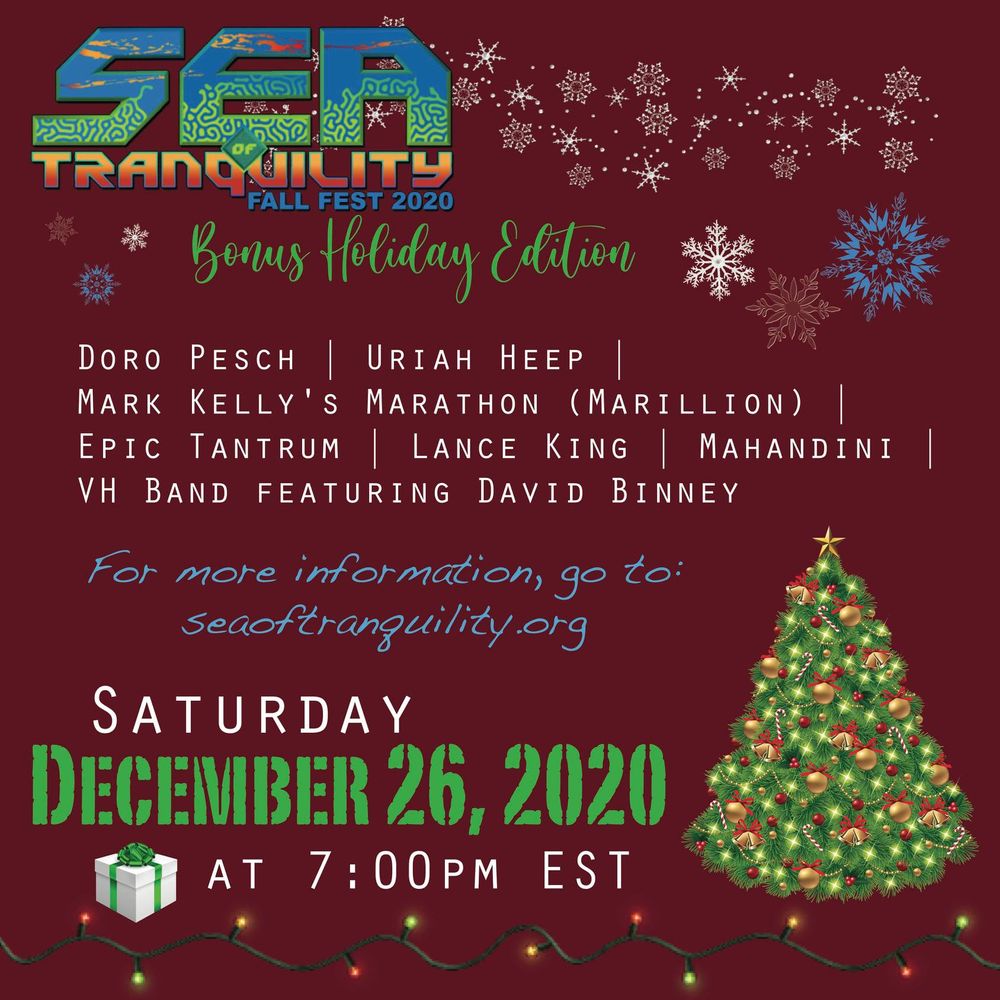 Sea Of Tranquility Bonus Holiday Fest!
We will be performing "Letting Go"
Saturday, December 26th at 7:00 pm est.
Sea Of Tranquility Fall Fest 2020 Holiday Bonus edition will premiere on Sea Of Tranquility's YouTube and Facebook pages.

Organized by Sea Of Tranquility, Vision Merch/Manic Merch and Chipster PR.

Sea of Tranquility:
Website: www.seaoftranquility.org
YouTube: www.youtube.com/channel/UCZF6XvqkFb9lURwIPePFU5w
Facebook: www.facebook.com/SeaofTranquility.org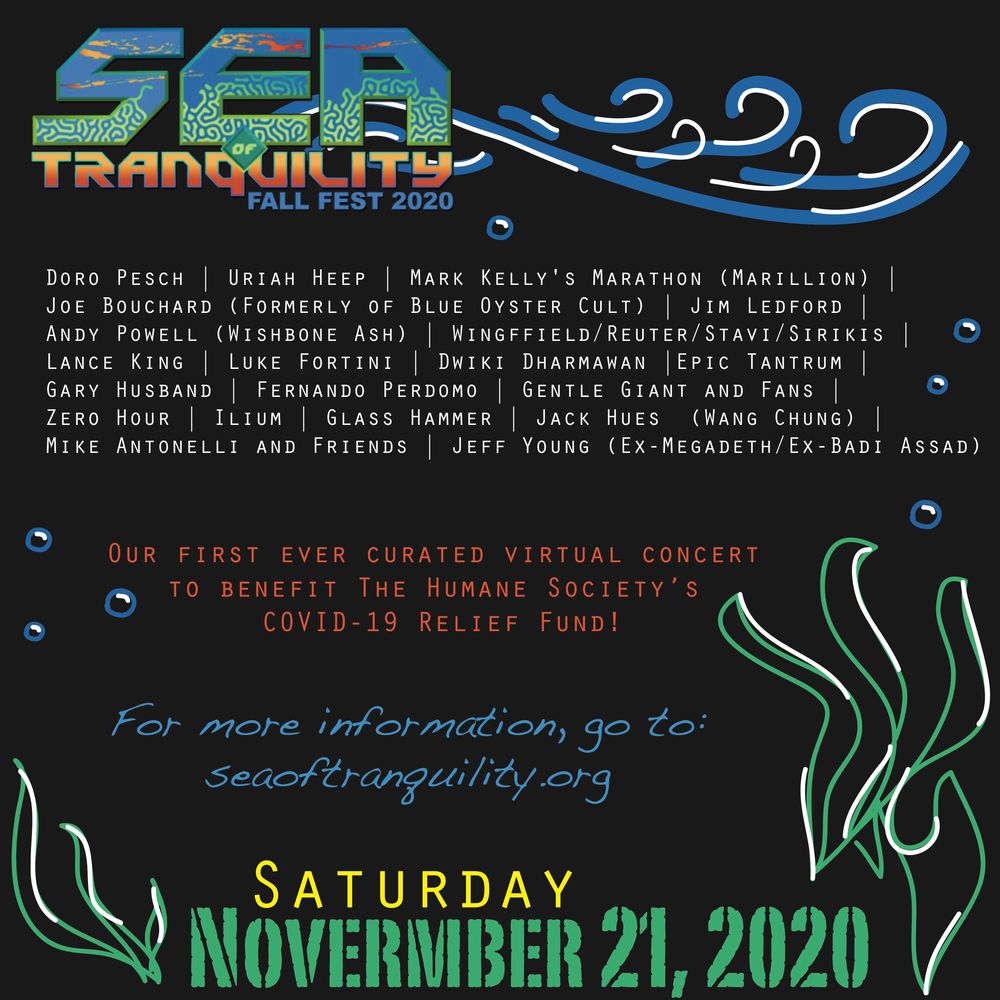 Epic Tantrum on Sea of Tranquility Fest 2020
Staurday, November 21st at 7:00 pm est
Go to:
https://www.facebook.com/events/813933532701945/
Sea of Tranquility is excited to announce Sea Of Tranquility Fall Fest 2020, its first ever curated virtual concert to benefit The Humane Society's COVID-19 Relief Fund.  

The world premiere will be Saturday, November 21st at 7:00 pm est.

Since its inception as a web-zine in 2001, Sea of Tranquility has been championing progressive rock, metal, and fusion music and musicians from all over the world. Today, after 1000s of interviews, reviews and feature articles, Sea Of Tranquility has built a large loyal following.

Artists participating include Doro Pesch, Uriah Heep, Mark Kelly (Marillion), Joe Bouchard (formerly of Blue Oyster Cult), Andy Powell (Wishbone Ash), Gentle Giant and fans, Jeff Young (Ex-Megadeth/ex-Badi Assad),  Lance King, Luke Fortini, Dwiki Dharmawan, Epic Tantrum, Gary Husband, Wingffield/Reuter/Stavi/Sirikis, Zero Hour, Fernando Perdomo, Glass Hammer, Ilium, Jack Hues (Wang Chung), Jim Ledford, Mike Antonelli and Friends and more.

The Humane Society launched the COVID-19 Relief Fund to support animal shelters, rescue groups and other organizations that are responding to the economic impacts of the COVID-19 outbreak, with the goal of keeping people and their pets together during this crisis. Contributions to the fund are being used to provide veterinary care, pet food, horse feed and animal care supplies, as well as other costs related to caring for animals during the outbreak. Sea Of Tranquility Fall Fest 2020 will also encourage fans to adopt a pet to help reduce the strain on shelters.

We are selling limited edition merch and donating the proceeds to The Humane Society's COVID-19 Relief Fund.  We will also set up a link on our page to The Humane Society's COVID-19 Relief Fund for people who want to make a direct donation.

Based on what we have seen with other shows like this that we have been involved in, we expect over 100,000 views for the event in the first month.

Sea Of Tranquility Fall Fest 2020 will premiere on Sea Of Tranquility's YouTube and Facebook pages.

Sea Of Tranquility Fall Fest 2020 is being organized by Sea Of Tranquility, Vision Merch/Manic Merch and Chipster PR.

 
Links:
www.humanesociety.org/resources/covid-19-relief-fund

Sea of Tranquility:
Website: www.seaoftranquility.org
YouTube: www.youtube.com/channel/UCZF6XvqkFb9lURwIPePFU5w
Facebook: www.facebook.com/SeaofTranquility.org
Merch for Sea of Tranquility Fest:
www.visionmerch.com/SotFest2020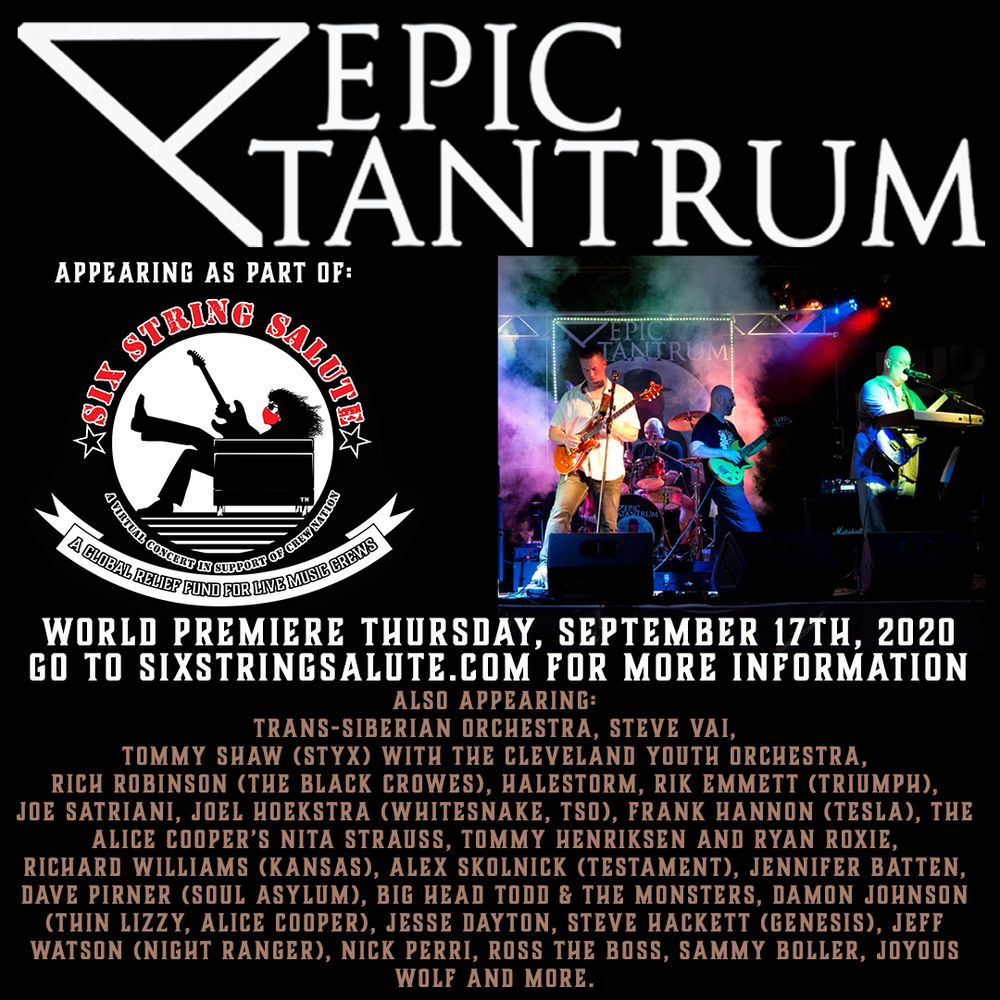 Sis String Salute!
Premiere is September 17th!
Six String Salute, the virtual concert to benefit Crew Nation, will premiere on Live Nation's "Live From Home" channel on Thursday,September 17th at 8:00 pm est. https://www.youtube.com/user/livenation
An encore screening on Friday, September 18th, will start at 8:00 pm est on the Six String Salute Facebook page on Facebook Live platform.
https://www.facebook.com/sixstringsalute2020
Please like and follow Six String Salute on Facebook to keep up to date with everything happening for this event.
Artists confirmed to appear include:
Alex Skolnick (Testament)
Big Head Todd and the Monsters
Damon Johnson (Thin Lizzy, Alice Cooper)
Dave Pirner (Soul Asylum)
Frank Hannon (Tesla)
Halestorm
Jennifer Batten
Jesse Dayton
Joel Hoekstra (Whitesnake)
Joe Satriani
Joyous Wolf
Nick Perri & The Underground Thieves
Rich Robinson (The Black Crowes)
Rik Emmett (Triumph)
Steve Cropper
Ross The Boss
Sammy Boller
Steve Hackett (Genesis)
Steve Vai
Alice Cooper's Nita Strauss, Tommy Henriksen and Ryan Roxie
Richard Williams (Kansas)
Tommy Shaw (Styx) with the Cleveland Youth Orchestra
Trans-Siberian Orchestra
Special guests and more.
Additionally, a number of crew members from prominent bands will also share their stories and tales from the road throughout the evening .
Limited edition merchandise including t-shirts and masks will be sold to help raise funds for Crew Nation at the Six String Salute website located at https://www.sixstringsalute.com/
Crew members are the backbone of the live music industry, and we hope you'll join us in supporting them through this temporary intermission until we can once again unite millions around the world through the power of live music. Crew Nation is powered by Music Forward Foundation, a charitable 501c3 organization, that will be administering the fund.